We are delighted to welcome Trevor Lowe and his
Total Lab Systems
team to the growing network of RheoSense international distributors!
Trevor is the founding director of Total Lab Systems Ltd. He has extensive laboratory equipment sales experience, having been in the industry for well over 20 years. Trevor holds a NZCS in Chemistry. Trevor had worked in a number of different laboratories before commencing his sales career. His face is known by many customers in New Zealand. Trevor enjoys, fishing, scuba diving, mountain biking and kayak fishing.
Trevor and his team are getting an early start and are developing a lead at the University of Auckland, which is New Zealand's leading university. The professor's research requires the unique viscometric feature set that only m-VROC can provide.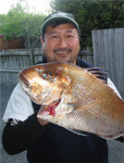 Here's Trevor with a colorful sample of a delectable creature from the Tasman Sea!