---
The 2014 AiChE conference is taking place this week, November 16 - November 21, 2014 in Atlanta, Georgia. If you would like to learn more about microfluidics and viscosity, visit us at Booth #141!
Details of microfluidics and the measurement principle behind
VROC technology
were presented during the first day of AiChe in area 1J, Fluid Mechanics.
Presented by Dr. Samiul Amin of Malvern Instruments, the poster includes the characterization complex fluids through Microfluidics. Benefits of using microfluidics for viscosity measurements include small sample sizes and wide dynamic range capabilities. Click here to view the
abstract
.
Dr. Samiul Amin is the Director, New Technology Assessment at Malvern Instruments and an industry recognized leader in rheology, specifically the rheology and microstructure of complex and nanostructured fluids. A chemical engineer by background with postdoctoral research experience at the University of Fribourg, Samiul is a prolific author and an active member of a number of or scientific bodies including the Society of Rheology and British Society of Rheology.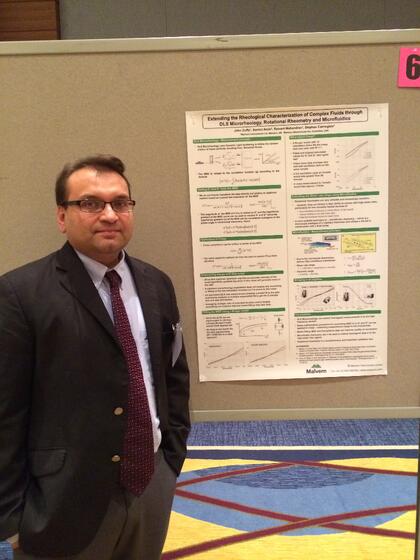 Duffy J, Amin S, Mahendran R, Carrington S. Extending the Rheological Characterization of Complex Fluids into the High Frequency and High Shear Rate Regime through Optical Microrheology and Microfluidic Flows. Poster session presented at 2014 AIChE Annual Meeting; 2014 November 16-21; Atlanta, GA.
---
For more information on VROC technology, visit our technology page or
---