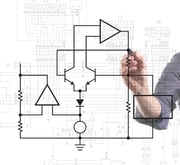 Whether you work with printed electronics, touch displays, or any of the number of applications working with conductive inks, coatings, paints and pastes, viscosity is one of the key parameters in the development of your process. Over the last few months, RheoSense has released a number of applications related to conductive inks. Our instruments allow for accurate rheological charaterization of these samples between 4°C and 105°C. Check them out!
Bare Conductive® is producing very interesting conductive inks and paints solutions. We recently performed a complete study combining shear and extensional viscosity measurements of their electric paint.
Printed electronics and touch screens are often developed with silver nanoparticles or nanowires suspensions. The viscosity and rheological behavior of these formulations can be significantly different based on the application.
Finally, following the current trend of Graphene being everywhere, we tested a Graphene-based conductive ink with ourportable viscometer, microVISC™. This instrument is ideal for quick, on-the-spot, but Simply Precise™, characterization of inks.
Need more information about the viscosity of other types of inks? Check out our application notes on the viscosity of inks and paints:
→ Ceramic Inks
→ Sodium Alginate Solution in Water
→ Water Based Inkjet Inks