As you know by now, viscosity is NOT just one number.
Viscosity is a defined property based on the type of continuous deformation applied. Although a steady shear flow is the most common characterization, extensional flow fields can also be used to analyze extensional viscosity.
Join our upcoming webinar where we will:
Clarify the difference between the steady shear and extensional viscosity
Discuss how the RheoSense product line is capable of measuring both types
Emphasize important points to consider when interpreting data
In this webinar, we will be introducing the e-VROC Chip: Shear Viscosity's Distant Cousin.
The e-VROC™ chip is engineered with a microfluidic channel of uniform width and depth. It has hyperbolic contraction/expansion zone in the middle of the channel and four monolithically integrated MEMS pressure sensors (two in the upstream and two in the downstream of the contraction/expansion zone).
Spots are limited so don't miss this opportunity and join us on
Wednesday March 20, 2019, 11:00 am PST
---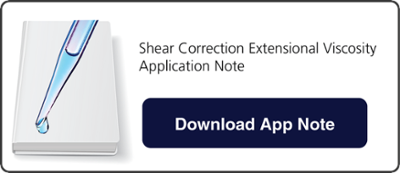 Before attending the webinar, we recommend checking out the application note on extensional viscosity. Access it for free by clicking the button to the right!