This past month, our marketing team has been working to emphasize the importance of viscosity in each step of the FDA drug approval process. The increasing demand of medicine research and development provide a valid ground to urge viscosity measurement in various stages of drug development and production.
Starting from discovery and development, intrinsic viscosity measurement (a measure of a solute's contribution to the viscosity of a solution) is a necessity essential in optimizing protein formulation, and often times in predicting viscosity curves for antibody solutions.
Understanding the need for measuring viscosity in drug formulation at early stage development can prevent project elimination in late stage approval and save tremendous amounts of time and resources. Due to the vast and endless possibilities of various compounds and solutions, it is prudent to measure viscosity early on to expedite research so you can move to step two: pre-clinical research. The various stages in the drug approval process constitute for different methods and reasons in measuring viscosity. Measuring viscosity is relevant at each stage of the FDA drug approval process.
1. Discovery and Development:
Identifying and predicting viscosity in drug formulations at this stage can save a tremendous amount of time and resources. Due to the vast set and compounds at this stage, automation and high through-put measurements are essential in expediting research.
2. Pre-Clinical Research:
Checking viscosity for injectability is critical in this stage of research, as most protein therapeautics tend to be shear thinning. For example, drug dosage per injection is subject to change from shear thinning properties which can ultimately affect its efficacy. Measuring viscosity can also assist determining particle sizing research during this stage of research. Problems without measuring can include reduced drug potency during injection due to shear thinning properties.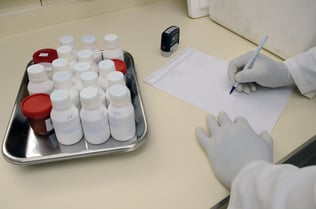 3. Clinical Research:
If viscosity is not measured, manufacturing and scaling up production could face various issues. Factors include new machinery to accommodate for large-scale production which can alter the drug compounds as a result of interacting with different mixture methods or higher pressures. Another indication is inaccurate fill volumes as a means from developing small volumes to large quantities.
4. FDA Drug Review:
During examination and careful consideration, the FDA will determine whether the drug has demonstrated efficacy for its intended use and more importantly have been proven to be safe for public consumption. If all criteria is met, the FDA works with the applicant to develop and refine prescribing information, a process known as 'labeling' (FDA). Labeling aims to be absolutely error-proof and has to be accurate as possible as it provides the guidelines on how to use/consume the drug.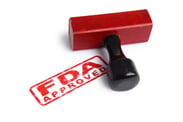 5. Post-Market Drug Safety Monitoring
In the post-market stage, viscosity still plays a vital role in the production and maintenance of drug manufacture. Essentially monitoring manufacturing methods and continuing to ensure all the products are falling within specifications upon production. Even more so when scaling up production, as new machinery has the potential to alter fluid characteristics when increasing pressure or forces. Measuring viscosity is imperative when ensuring every batch is identical to the next and making sure quality control is up to standards.
For our VROC® Initium users: RheoSense Clariti™ BETA has met all expectations for our current users and testers, and we are working to provide you video content to provide tips on how to maximize and fully utilize your Clariti program in the next coming weeks. For those of you curious about our data consolidating software, contact a RheoSense representative and get started today!