RheoSense, Inc. (San Ramon, CA) – is proud to announce a new addition to the VROC®family, e-VROC® viscometer! Coupled with the same small sample requirements and a wide dynamic range, e-VROC maintains the precision and accuracy of the m-VROC® viscometer with one slight twist: the capability of measuring apparent extensional viscosity.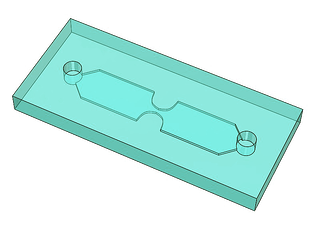 Extensional or elongational viscosity is ideal for
studying the complex properties of many fluids used in industrial applications. Because extensional flows greatly impact the behavior of polymer molecules and asymmetric particles, understanding extensional viscosity allows you to improve your industrial processes. By monitoring the sample flow through a microfluidic contraction, the system measures the pressure upstream and downstream of a contraction using the MEMS pressure sensors and registers changes in the flow. The fluid experiences shear flow in the straight channel and then an almost constant extension in the contraction zones.

e-VROC®, built with RheoSense's patented VROC® technology, is an excellent tool for measuring both the extensional and shear viscosities simultaneously. e-VROC® chips are engineered with a microfluidic channel of uniform width and depth with a hyperbolic contraction/expansion zone in the middle of the channel and four monolithically integrated MEMS pressure sensors. Like all our VROC viscometers, the e-VROC requires a small sample volume (500 µL) and tests over a wide dynamic viscosity range (10 ~ 2,000 mPa-s).
e-VROC capabilities include measuring extensional viscosity at high extensional rates and can be used in various
applications such as:
Fiber Spinning
Paint Rolling
Roll Coating
Inkjet Printing
Spraying
Electrospinning
Enhanced Oil Recovery
Drag Reduction
Food Processing
See the full e-VROC specifications here.
Press contact:
Grace Baek
RheoSense, Inc.
(925) 866-3808
-#-
ABOUT RHEOSENSE: A global high-tech instrument company based in the Bay Area in California. Our innovative viscometers feature patented Viscometer/Rheometer-on-a-Chip (VROC®) technology. Utilizing state-of-the-art MEMS (Micro-Electro-Mechanical Systems) and microfluidics breakthroughs, our instruments offer the smallest sample volume per measurement, coupled with exceptional ease of use and accuracy. We are the leader in providing viscometers to the biotechnology, pharmaceutical, and emerging protein therapeutics industries. RheoSense instruments have been rigorously tested, approved, and adopted worldwide by Fortune Global 500 companies and leading research universities.