RheoSense, Inc. (San Ramon, CA) – is proud to announce a new addition to the VROC™ family, e-VROC™ viscometer! Coupled with the same small sample requirements and a wide dynamic range, e-VROC™ maintains the precision and accuracy of the m-VROC™ viscometer with one slight twist: the capability of measuring apparent extensional viscosity.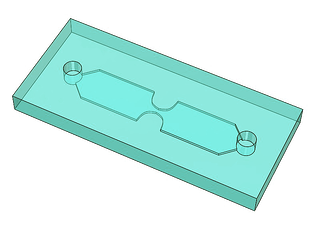 Extensional or elongational viscosity is ideal for
studying the complex properties of many fluids usedin industrial applications. By monitoring the sample flow through a microfluidic contraction, the system measures the pressure upstream and downstream of a contraction using the MEMS pressure sensors and registers changes in the flow. The fluid experiences shear flow in the straight channel and then an almost constant extension in the contraction zones as depicted in figure 1.
e-VROC™ capabilities include measuring extensional viscosity at high extensional rates and can be used in various
applications such as:
Fiber Extrusion Spinnerets

Paint Rolling

Ink Jet Printer Nozzles

Sheet or Film Drawing

Flow through a Porous Media