RheoSense Academic Viscomter Grant (RAVG) Program 2015 Press Release
SAN RAMON, CA, April 02, 2015 – RheoSense, Inc. is pleased to announce the Academic Viscometer Grant Program. Through this program, RheoSense hopes to provide assistance to faculties and academic researchers throughout the United States, in promoting mutual enrichment to students as well as advancements in the research fields. Please submit your application at www.rheosense.com/academic-viscometer-grant-program.
RheoSense, Inc. develops viscometers using its patented proprietary technology, Viscometer/Rheometer-on-a-Chip (VROC®). A combination of advanced MEMS and microfluidics technology with the century old fundamental engineering principle "Hagen-Poiseuille" flow, this intuitive technology is what powers RheoSense viscometers in accurately measuring the viscosity of liquids.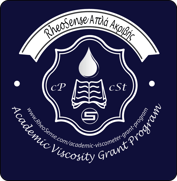 "RheoSense's success is rooted in this key science and engineering principle and we would like to share the benefits of VROC® technology with Academic Institutions all over the U.S." said Seong–Gi Baek, Ph.D., President and CEO. With this program, a select number of professors and academic researchers the microVISC™ viscometer at an exclusive discount to support their teaching and research.
Such collaborations with Rheosense will benefit the understanding of important emerging applications that rely on quantitative viscosity measurements and facilitate further advancements of research and development. Click here to apply!