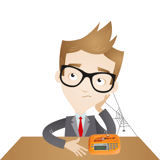 Looks like every spider will be shopping this holiday season for a viscometer to fine tune the viscosity of the glue droplets that cover spider webs and strands. Luckily RheoSense made the microVISC™, a portable and battery powered viscometer/rheometer. As Spidey (the little spider living in one of the corners of my backyard) puts it: "I needed a fast, portable and Simply Precise™ instrument. Rheosense had the perfect solution for me. Now my spider webs are stickier than ever!"

Researchers from Akron University and Virginia Polytechnic institute have studied the properties of the glue droplets for several spider species focusing on the changes they exert in viscosity depending on the humidity levels.

They observed changes in viscosity over five orders of magnitude with humidity ranging between 30 and 90%.

Spiders developed this ability to ensure that their prey get trapped in the web independently of the humidity level. Now scientist think that it might help them develop the next generation of smart adhesives that will change their viscosity to remain sticky in humid conditions.