You may have followed many of our injectability application notes and webinar sessions where we began to explain the concept of calculating injection rates. Our next webinar this coming month on November 20, 2019 at 11:00 am PST will actually be a hands-on live workshop where we will start from scratch on how to approach the calculations to injection rate, figuring out which shear rates to run, and ultimately designing your experiments with the real application in mind.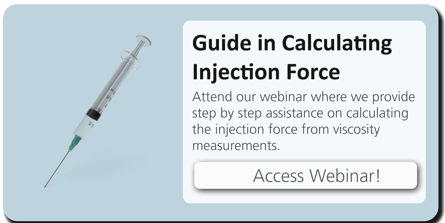 Webinar Details:
Wednesday November 20, 2019
11:00 am PST
Host: Dr. Stacey Elliott
*Who should attend:
- Formulation Scientists
- Experts in Drug Delivery Methods
- Director of Formulation
- Protein Design Engineer
- Anyone Curious for Knowledge!