Back in 1927, Australia's University of Queensland physicist Thomas Parnell started what is now recognized by the Guinness Book of World Records as the longest running lab experiment. Dr. Parnell wanted to examine the viscosity of pitch, a tar like substance, by observing the speed at which it flows from a funnel into a jar. Since the pitch was first poured in 1927, only nine drops have fallen, with the last one occurring in April 2014.
This long running experiment has applications that remain relevant to high viscosity polymers and liquids seen in today's applications. One such application is in 3D inks which can have viscosities greater than 50,000cP.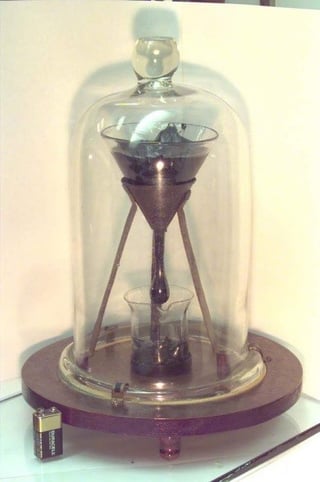 Image credit: Image reposted from https://www.livescience.com/7102-world-longest-running-experiments.html*
Highly viscous samples can pose significant obstacles in determining viscosity. RheoSense viscometers have a wide viscosity range from 0.2cP up to 100,000cP. Don't leave your viscosity measurements to chance! Look into how RheoSense can benefit your application.
*Image is not a part or associated with RheoSense, Inc.