SAN RAMON, CA, February 10, 2014 – RheoSense, Inc., the leading manufacturer of viscometers, is pleased to announce another milestone reached in partnership with Pfizer. With a strategically collaborative effort between Pfizer and RheoSense, it is our pleasure to have placed the 10th m-VROC unit with Pfizer. According to our Strategic Account Manager, Rajib Ahmed, "The placement of 10 m-VROC units within Pfizer clearly demonstrates the efficacy of our cutting-edge technology and is also a true testament to an indispensable partnership with Pfizer. Pfizer has steadfastly stood next to us and helped us become the undisputed leader in the viscosity market."
RheoSense has been well recognized as the leader with its disruptive viscometry technology that allows smallest sample volume coupled with advanced measurement capabilities. With the newly emerging field of protein therapeutics, the need for viscosity measurement leading to injectable drugs is of paramount importance and RheoSense has been at the forefront to cater to many of these pharmaceutical companies.
Headquartered in New York, Pfizer is one of the largest pharmaceutical companies for developing and producing medicines and vaccines for a wide range of medical applications. Along with Pfizer, many biopharmaceutical companies select RheoSense viscometers because of a wide range of capabilities including the ability to conduct viscosity measurements with small sample size, accuracy, and ease of use.
RheoSense clients require measurements of a wide range of applications including proteins, antibodies, eye-care, and bio-fluid. For more information, several application notes created by RheoSense, Inc., focus on measuring viscosity including, but not limited to, biopharmaceutical applications. Please contact info@RheoSense.com.
RheoSense is a global high-tech company based in Silicon Valley. Our innovative m-VROC™ & microVISC™ instruments feature patented Viscometer/Rheometer-on-a-Chip (VROC®) technology. Utilizing state-of-the-art MEMS and microfluidics breakthroughs that redefine the viscometry industry, our instruments offer the smallest sample volume per measurement coupled with exceptional ease-of-use and accuracy. We are the leader in biotechnology, pharmaceutical, and the emerging protein therapeutics industries. RheoSense instruments have been rigorously tested, approved, and adopted worldwide by Fortune Global 500 companies and leading research universities.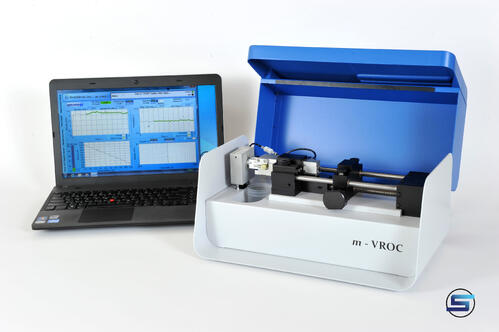 View PR in PDF
m-VROC™ is a trademark of RheoSense, Inc. Other references are trademarks of their respective owners.